فهرست مطالبی که می خوانید
On this page of
BrokerLand
website, we take a closer look at LiteForex broker and provide a comprehensive review. LiteForex, established over 17 years ago, has consistently been a secure and reliable choice for both novice and experienced traders worldwide.
Introducing LiteForex (LiteFinance) Broker
LiteForex broker was founded in 2005 and has since opened its offices in various countries, including Bulgaria, India, Indonesia, Malaysia, Pakistan, Russia, Thailand, and Poland. These offices serve as primary centers for LiteForex to offer financial services in the forex market across different regions. Presently, the company is recognized as one of the top forex brokers.
LiteForex Broker Overview

| | |
| --- | --- |
| 🗺️ Headquarters | Cyprus |
| ⚖️ Regulation | CySEC, MIBS |
| 💰 Minimum Deposit | $1 |
| 💰 Maximum Leverage | 1:1000 |
| 📊 Trading Platforms | MetaTrader 4, MetaTrader 5 |
| 🎮 Demo Account | Available |
| 🛍️ Trading Instruments | Forex, Precious Metals, Cryptocurrencies, Oil, Global Stocks, and more… |
LiteForex is regulated by CySEC (Cyprus Securities and Exchange Commission) under license number 093/08. The brand was established in 2005 as a trading name for Lite Finance and was officially registered in the Marshall Islands in September 2013.
It's worth noting that LiteFinance Broker was the first broker to introduce cent accounts with a minimum deposit of just $1, making it possible for traders with limited capital to connect to the international financial markets directly and place orders.
Over the past 17 years, LiteForex  Broker has excelled in adapting to market conditions and consistently improving the quality and breadth of its services.It has always been a leading broker in offering trading bonuses and has kept traders satisfied with its range of tradable assets. For instance, it fully introduced cryptocurrencies for trading on its MetaTrader platform, positioning itself as a premier broker. This commitment to excellence has consistently earned LiteFinance a place among the top 100 brokers worldwide in World Finance Magazine.
Types of Accounts at LiteForex Broker
Apart from the Forex demo account that all brokerage firms offer for testing their trading conditions and servers, this broker provides three types of accounts: Cent accounts, Classic accounts, and Professional ECN accounts with floating spreads. To successfully pursue a trading career, it's necessary to decide on your account type. In all three types of accounts, you can choose leverage up to 1:1000, depending on your trading strategy. Now, let's see how these accounts differ from each other:
Cent Account
These accounts have floating spreads, but the spreads on Classic accounts are slightly higher because market makers have to convert your trade amount to dollars and then enter it into the cash flow, which slightly increases your trading costs.
Classic Account
Classic accounts at LiteForex are among the most popular accounts because you can activate this account with a deposit of $50.
You can use various indicators and expert advisors, and make use of tools like stop trailing and one-click trading.
Additionally, you can also use copy trading, which we will explain in more detail later in this article.
Professional ECN Account
The Professional account at LiteFinance is ultimately designed for professional traders who are looking for low spreads starting from 0 pips, which are floating.
These traders want to connect directly and without intermediaries to the international Forex market.
With LiteForex, you can activate this professional account with a minimum deposit of $50.
In summary, LiteFinance broker offers different types of accounts to cater to traders with varying levels of experience and risk preferences, from novices to professionals. The choice of account type depends on your trading strategy, experience, and personal preferences.
| | | | |
| --- | --- | --- | --- |
| | ECN | CLASSIC | CENT1 |
| Spread | Floating, starting from 0.0 pips. | Floating, starting from 1.8 pips. | Floating, starting from 3 pips. |
| Commission | Starting from $0.25 per lot. | No | No |
| Execution | instant | instant | instant |
| Trading Platform | MT4/MT5 | MT4/MT5 | MT4/MT5 |
| Leverage | 1:1000 – 1:1 | 1:1000 – 1:1 | 1:200 – 1:1 |
| Urrency | USD, EUR | USD, EUR | Cents Dollar, Cents Euro |
| Minimum Deposit | $50 | $50 | $10 |
| Annual Interest Rate | 2.5% | 0% | 0% |
| Swap-Free Accounts | Available | Available | Available |
| Social Trading | Available | Available | Available |
| Lot size، $ | 100000 | 100000 | 1000 |
| Minimum Step | 0.01 | 0.01 | 0.01 |
| Minimum Volume | 0.01 | 0.01 | 0.01 |
| Maximum Volume | 100 | 100 | 100 |
| Maximum Number of Orders | 500 | 300 | 300 |
| Margin Call Leve | 100 | 100 | 100 |
| Stop Out Level | 20 | 20 | 50 |
Fees
In ECN accounts, you can trade the EUR/USD currency pair with a minimum floating spread of 0.0 pips and a commission of $10 per lot. The commission amount can vary up to $30 per lot, depending on the currency pair you are trading. However, this is still very competitive compared to most other forex brokers. For CFDs, the commission ranges from $0.5 to $20, and for cryptocurrencies, it's $0.5. If you choose to trade in a CLASSIC account, you can avoid commissions and instead have floating spreads starting from 1.8 pips.
Another cost to be aware of is the Swap Rate, or overnight interest, which is common among all brokers. However, by selecting the Islamic mode when opening an account, you can eliminate it. But remember that Islamic or Swap-Free accounts have a time limitation for keeping trades open, typically 14 days, and no broker allows you to keep trades open for more than 14 days in these accounts.
Average Spreads in LiteForex Broker Accounts
One very interesting aspect of LiteForex as a broker is its commitment to transparency and honesty. The broker provides the average spreads of its accounts on its official website several times a week. For example, the statistics below are for August 22, 2022:
Please note that the accuracy of the numbers mentioned is in pipettes, which means one-tenth of a pip. For example, in the table above, the number 2.4 is equivalent to 0.24 pips, and the number 36.4 is equivalent to 3.64 pips. This information helps traders gauge the cost of trading with LiteForex and provides valuable transparency.
| | | |
| --- | --- | --- |
| Curency Pair | ECN | CLASSIC |
| AUDUSD | 4.6 | 24.6 |
| EURUSD | 2.4 | 22.4 |
| GBPUSD | 6.9 | 26.9 |
| NZDUSD | 5.8 | 25.8 |
| USDCAD | 6.9 | 26.9 |
| USDCHF | 8.2 | 28.1 |
| USDJPY | 7.1 | 27.1 |
| XAGUSD | 1 | 6 |
| XAUUSD | 14 | 54 |
| XPDUSD | 836.73 | 890.22 |
| XPTUSD | 255.14 | 305.65 |
| GBPJPY | 17.3 | 77.3 |
| EURCHF | 8.3 | 52.2 |
| EURGBP | 5.5 | 41.4 |
| EURJPY | 9.3 | 33.3 |
Trading Instruments in LiteForex
In addition to various major currency pairs in forex, you can also access various precious metals (gold, silver, etc.), CFDs, oil, indices, stocks, commodities, and cryptocurrencies at LiteForex. However, keep in mind that the trading conditions for these assets may vary, but you can access all of them through MetaTrader 4 or MetaTrader 5.
Depositing and Withdrawing in LiteFinance
LiteForex Broker offers various options for depositing and withdrawing funds. Here is a list of the available methods:
Bank Wire:
Electronic Transfers:
Crypto: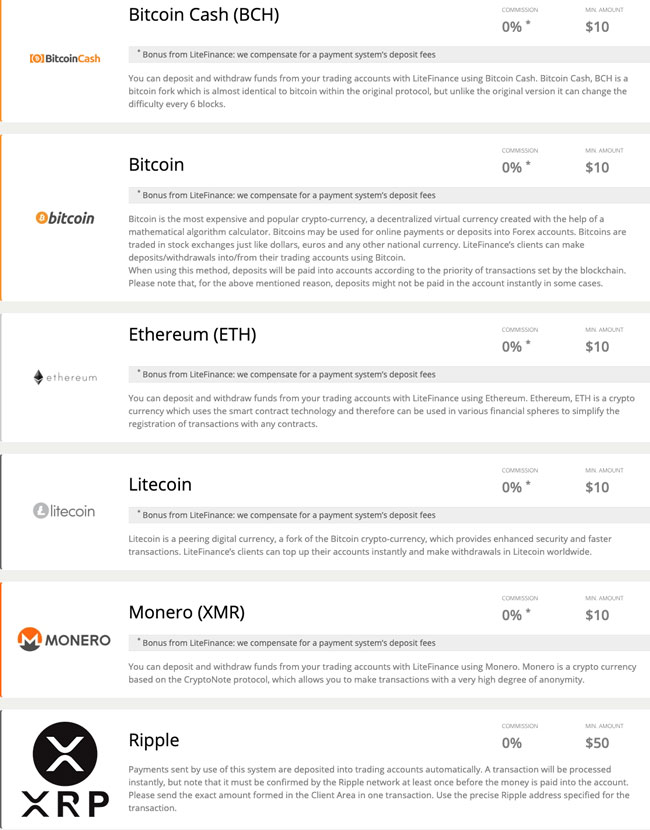 It's essential to note that, similar to most brokers, LiteForex has a policy where you are only allowed to withdraw using the same method you used for depositing funds. In other words, if you deposited money via Perfect Money, you can only withdraw using the same method.
For example, if you deposited $5,000 via Tether (USDT) and $3,000 via TAP. You can withdraw money using both methods, but the withdrawal amounts will be proportional to the deposited amounts. This policy ensures the security and transparency of transactions in LiteForex.
How to Open an Account with LiteForex
Here is a step-by-step guide for registering and opening an account with LiteFinance:
Visit the LiteForex website and change the site language to your choice from the top right corner.
Click on the "Register" button.
In the pop-up window, select your country, enter your email or mobile number, and set your password.
Enter the code sent to your provided email or mobile number and click the "Confirm" button.
To complete your profile, click on "My Profile" from the top left corner of the page and enter or verify your information.

In the "Identity Verification" section, make sure to provide your name and surname in English and your date of birth in the Gregorian calendar, matching your passport details. For address verification, input your address in English and upload a utility bill (water, gas, or electricity) as proof.
By following these steps, you can successfully register and open an account with LiteForex.
Trading Platforms at LiteForex Broker
Up to this point, we've explained how to get started with LiteForex, but after opening an account and selecting your account type, and depositing funds, all your trading activities are managed through trading platforms. Fortunately, LiteForex has chosen the all-time favorite platform for traders, MetaTrader, and offers both MetaTrader 4 and MetaTrader 5, along with MultiTerminal and mobile versions. It is also providing CTrader.

MT4: This is one of the most popular trading platforms for both novice and professional traders. It is packed with advanced trading features, including over 50 built-in indicators and graphical tools, 9 timeframes, and a complete trade history.
MT5: The MT5 platform offers even more features and is perfect for experienced traders. It provides a wider range of indicators, more timeframes, a complete set of order types, an economic calendar, and liquidity depth tools.
MetaTrader Multi-Terminal: This version is one of the most professional versions of MetaTrader and is designed for account managers and investors trading on multiple accounts who want to copy their trades in different proportions on different accounts. It offers more trading flexibility.
cTrader: cTrader is a popular and user-friendly trading platform known for its advanced charting and order execution capabilities. It is favored by many traders for its intuitive interface and robust features, making it a competitive choice in the world of forex and CFD trading.
LiteForex Bonuses
This broker continually provides exceptional services to traders. As of the time of writing this text, you can receive a 100% bonus for every deposit made with this broker. For example, if you deposit $5,000 using any of the deposit methods, your account will be credited with $10,000.
This feature is rarely seen with most brokers, and such offers usually change over time. It's possible that when you read this article, the bonus has been replaced by a 30% bonus or another, even larger bonus. For reassurance, make sure to coordinate with the broker's support before making any deposits.
LiteFinance Copy Trading
If you possess sufficient skills in analysis and trading and can consistently profit in Forex, this broker gives you the opportunity to get closer to your financial goals. You can create a profile in your trading panel, trade for a period, earn profits on your account, become known, and rest assured that substantial capital will be at the disposal of successful traders.
Even if you're not a successful trader and are still in the learning and education phase of trading strategies and analysis, you can earn a good monthly income by investing in skilled traders. All you need to do is search among LiteForex Broker traders and find a trader whose trading results and risk appetite satisfy you.
Is LiteForex a Good Choice for Forex Trading?
LiteForex is a broker with many unique and special features that are not commonly found with most brokers. For example:
1. All withdrawal requests are processed automatically and instantly. Your funds are deposited into your account as quickly as possible.
2. Support for modern deposit and withdrawal methods such as Tether (USDT), Bitcoin, and others.
3. They provide dedicated VPS (Virtual Private Server) hosting for trading. These servers are maintained in LiteForex's data center and enable you to execute ultra-fast trades for a monthly subscription fee as low as $15.
4. Social trading and copy trading are integrated into the platform, allowing you to easily generate additional income by sharing or copying your trades.
Pros
Regulated by CySEC, a reputable regulatory authority.
17 years of operational experience.
Easy deposit and withdrawal options in your local currency.
Excellent spreads in ECN accounts.
Provides copy trading with broker credibility.
Offers fast VPS hosting services.
Cons
Customer support may not be available on weekends.
This Broker does not offer PAMM (Percentage Allocation Management Module) accounts.
Overall, LiteForex Broker offers several advantages that can make it a good choice for Forex trading. The ability to use modern deposit and withdrawal methods, instant processing of withdrawal requests, and features like VPS hosting and copy trading contribute to its appeal. However, it's important to consider your specific trading needs and preferences when choosing a broker.
Frequently Asked Questions
Is LiteForex a safe and reputable broker?
LiteForex is regulated by CySEC, which ensures its safety. LiteFinance Global is also registered offshore and provides a high level of financial security.
Where is the LiteFinance Broker office located?
LiteForex is based in Limassol, Cyprus. The central office of LiteFinance Global is located in Majuro, in the Marshall Islands.
How many types of accounts does LiteForex offer?
In addition to the Cent account, LiteForex Broker offers two other types of accounts: Classic and ECN.
Both of these accounts require an initial deposit of $50, and the stop-out level for both accounts is set at 20%.