فهرست مطالبی که می خوانید
Bingx Exchange is a cryptocurrency trading platform that was launched in 2018. This crypto exchange allows investors in the cryptocurrency market worldwide to engage in derivative, spot, and copy trading. The goal of this Exchange is to lead the social trading platform sector by providing a secure, reliable, user-centric, and open-source ecosystem to enrich the entire crypto-currency industry. Bingx Exchange is one of the first trading platforms that enables margin trading with the crypto Tether (USDT) on its exchange.
Furthermore, this platform has also added perpetual margin trading with the stablecoin USDC to its list of contracts. Therefore, Bingx can meet all of its users' needs regardless of market conditions and fluctuations. In this article, Brokerland thoroughly reviews this exchange.
Additionally, Bingx Exchange boasts a visually appealing, straightforward, and transparent user interface. What's more, traders can replicate successful trading strategies and learn from them. Consequently, the social trading network or copy trading on this exchange can connect novice traders with experienced ones, offering substantial benefits to both groups.
Features of Bingx Exchange
Cryptocurrencies are continuously growing, and innovative solutions on the Bingx Exchange are approved by millions of cryptocurrency users worldwide. It has currently attracted more than 1 million users from nearly 100 countries worldwide and is available on platforms like iOS, Android, Windows, and Mac. Let's highlight some of the most important and practical features of Bingx Exchange.
1. Different Contracts (CFD):
Different contracts in the CFD market allow traders to speculate about the value of digital assets. This is a cost-effective method for trading various types of assets.
2. Spot and Derivatives Market:
Bingx Exchange empowers its users to trade digital assets within a few minutes. Additionally, the Bingx platform provides its native crypto, VST, to users. This currency enables users to gather information and plan their strategies before engaging in real cryptocurrency trading.
3.Red Packets:
The Red Packet is a unique feature on Bingx Exchange that allows users to exchange Tether (USDT). When a user sends a Red Packet through its website or app, the system deducts the corresponding amount from their account. This process can also be done through social media applications. When a Red Packet is transferred by one person and opened by another, the funds are sent directly to the recipient for business purposes or withdrawals.
Moreover, Red Packets have two modes: Normal and Random. In Random mode, users need to specify the total amount and the number of Red Packets along with a message. The total amount is then randomly distributed to the users based on the number of Red Packets. In Normal mode, users also need to specify the total amount and the number of units, but the total amount is calculated as the "unit amount" multiplied by the "number."
4. Grid Trading:
Grid trading establishes a gradual buy and sell order within a specific price range. This trading method can be compared to providing liquidity in Automated Market Makers (AMM) or decentralized exchanges (DEX).
5. Comprehensive Information:
Information such as professional traders' investment amounts, return rates, cumulative returns, and arbitrage history are among the various metrics provided on Bingx Exchange. These precise and comprehensive data help regular traders make more informed decisions and adopt better trading strategies.
Bingx Exchange rewards high-frequency and top spot traders by offering incentives to encourage them to share their strategies with the public. This has significantly transformed the spot trading arena. When an experienced trader's strategy is copied by others, the system automatically deducts 8% of the follower's returns as a fee and gives it to the provider.
The Bingx Exchange platform also features a ranking system based on the amount of capital invested, interest rate, and the investor's trading period on the network. This ranking assists users in making more informed decisions.
6.Copy Trading:
The feature of copy trading in the spot trading network is a significant and forward-looking step for Bingx Exchange. This is because it marks a major milestone in achieving global spot trading. This exchange offers users the benefits of copy trading and grid trading by allowing them to access the strategies of experienced crypto currency traders.
Meanwhile, copy trading can attract many individuals as it provides a space where both copy traders and strategy creators can profit. Experienced traders are thoroughly reviewed by Bingx Exchange to ensure that their offered strategies are well-prepared. On the other hand, less experienced traders have the option to copy their preferred trading strategies.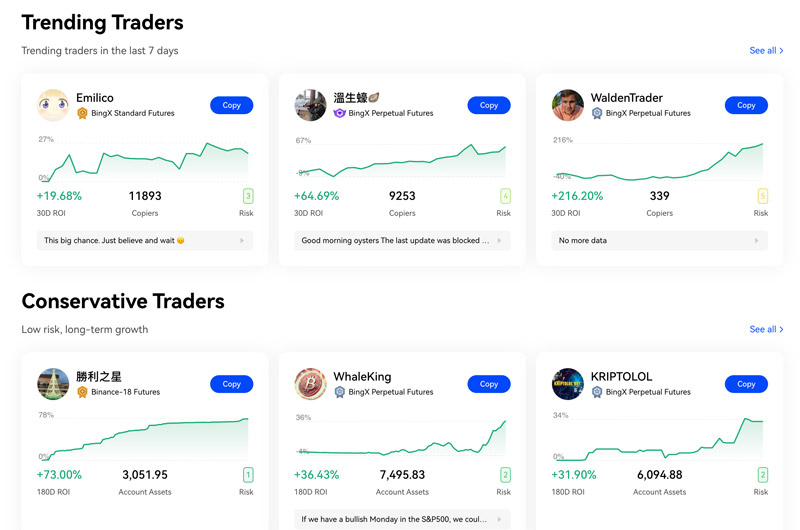 7. Referral Program:
In the referral program, users can invite their friends to Bingx Exchange and receive a portion of their trading fees as commissions. Traders can utilize the referral program to earn rewards and promote this excellent platform.
VST Token
The cryptocurrency VST is a native token introduced on the Bingx Exchange platform. This coin is used for practicing copy trading or standard contracts. Profits earned from trading with the VST crypto-currency cannot be used for real transactions. In fact, the profits obtained from this cryptocurrency cannot be transferred or withdrawn and have no real value.
However, it can be utilized as a learning tool for copy trading or standard contracts in demo trading. Bingx Exchange users are limited to using only 150 VST coins daily, calculated based on leverage and margin ratio. After completing the registration and setting up an account, you will receive 100,000 VST coins in your account. You can then request access on the trading portal page and use your VST account for demo trading.
The maximum volume of VST assets in one moment will be less than 20,000 coins, and each user can request it only once a week. To use VST, you must select your desired currency pair from the standard contract web page on Bingx Exchange to access the order page. Be sure to confirm the selection of your VST account to avoid engaging in real trading.
Currency Deposit and Withdrawal
In the following, we'll become familiar with the methods of deposit and withdrawal in this exchange:
Deposit in BingX Exchange
At present, This Exchange does not support fiat deposits. However, you can deposit digital assets like Bitcoin, Ethereum, Tether, or USD Coin into your BingX wallet from other wallets.
The process is straightforward. First, log in to your BingX account. Then, click on the "Withdrawal" option. Next, choose the asset you want to deposit. You'll need to enter the address of your wallet either by typing it or scanning the QR code on the withdrawal platform. The minimum deposit is 1 Tether (USDT), which is considered as 1 US Dollar due to its one-to-one peg.
Up to now, the supported assets for deposits on BingX include ETH, TRX, BSC, OMINI, FIL, HECO, SOL, XRP, CELO, TERRA, POLYGON, NEAR, and ARBITRUM. Before the assets are deposited into your account, transactions typically take about 10 to 60 minutes for confirmation by network nodes.
Withdrawal of Funds in BingX
The process for withdrawing funds in this exchange is the same as depositing. Start by logging into your account, then click on the "Deposit" option this time. Withdraw the recipient wallet's address from the desired platform and paste it or scan the QR code. In the final step, choose the withdrawal amount and click the "Confirm" button. The minimum withdrawal on is 15 Tether (USDT).
The processing time for all withdrawals from BingX takes approximately 10 to 120 minutes, after which the assets will be credited to your account. Unverified users can withdraw up to 50,000 USDT every 24 hours. However, this limit increases to 1,000,000 USDT per day for verified users.
Getting Started with BingX Exchange
To register an account on the BingX exchange, you should visit their official website and click on the "Register" option in the top navigation bar. Registration can be done with either your email address or phone number. After that, you need to configure your security settings to protect your assets.
For web users, after logging into the BingX website, hover over the avatar in the top navigation bar. Then, click on "Account & Security" to go to the "Security Center." Mobile app users can access the "Security Center" by clicking on their avatar in the top-left corner after logging into their account. Following these steps, you can start depositing or trading your assets on its platform.
Summary
BingX Exchange has become one of the best and user-friendly platforms for trading since its inception. The ease of use and the offering of top cryptocurrencies are among its advantages. We hope our review of this exchange and its features has been helpful to you.
Pros:
– No mandatory identity verification
– Offers copy trading
– Registered in several countries
– Provides 24/7 customer support
– Low trading fees
Cons:
– No phone support available
– Does not offer high leverage
Frequently Asked Questions
Is BingX Exchange safe and reputable?
With a leading market depth from multiple liquidity providers, this exchange offers smooth and stable operations, even during challenging market conditions. It has been in operation since 2019 and continues to build a long track record in security and safety.
Where is BingX exchange located?
It is internationally registered in Australia, the United States, Estonia, and Canada, providing traders with extra peace of mind.
Is this Exchange secure?
Yes, it is. The platform has strong security measures, including two-factor authentication and multi-signature strategies.
How long does it take to withdraw from the account?
This exchange offers fast deposits and withdrawals. You can receive your funds within five to ten minutes after making a request.