فهرست مطالبی که می خوانید
HYCM Broker, previously known as HY Markets, is considered one of the best forex brokers. This brokerage has over 40 years of experience in the market. It is a part of the Henyep International financial holdings, founded in 1977, with its headquarters in London, England. The Henyep Group is active in financial services, education, and real estate.
HYCM adheres to strict regulations, which it enforces in its offices worldwide and every relevant jurisdiction. Its offices are supervised by regulatory agencies in major cities around the world, including London, Limassol (Cyprus), Hong Kong, and Dubai. Furthermore, this broker provides powerful trading capabilities and offers an advanced range of trading tools with dedicated customer support. Here BrokerLand will review all the key features and anything you need to know to open an account in this broker.
2023 HYCM Broker Review
This broker has a long history of operation and is highly regulated. Opening an account with this broker is straightforward, and it offers various types of accounts with low costs and quality education and research. Additionally, it allows you to choose from various options for deposit and withdrawal.
HYCM Broker

| | |
| --- | --- |
| 🗺️ Headquartes | United Kingdom (UK) |
| ⚖️ Regulation | FCA, ESMA, CySEC, DFSA, CIMA |
| 💰 Minimum Deposit | $100 |
| 💰 Maximum Leverage | 1:30 |
| 📊 trading Platforms | MetaTrader 4, MetaTrader 5 |
| 🎮 Demo Accounts | Available |
| 🛍️ Trading Instruments | Forex, Metals, Gold, Silver, Energy (Oil and Gas), Commodities, Indices, and Stocks |
Regarding the drawbacks of this broker, it operates differently depending on the entities. It lacks 24-hour support, and its trading tools are limited to Forex and CFD markets. However, it solely uses the MetaTrader trading platform.
HYCM Awards
This Broker provides a professional trading environment, making it highly respected globally. It has a long history in the financial industry and serves numerous clients worldwide. This is because it offers a trader-friendly environment for various types of traders. In fact, the HYCM brand is highly respected among traders and financial industry investors, earning multiple international awards for its achievements.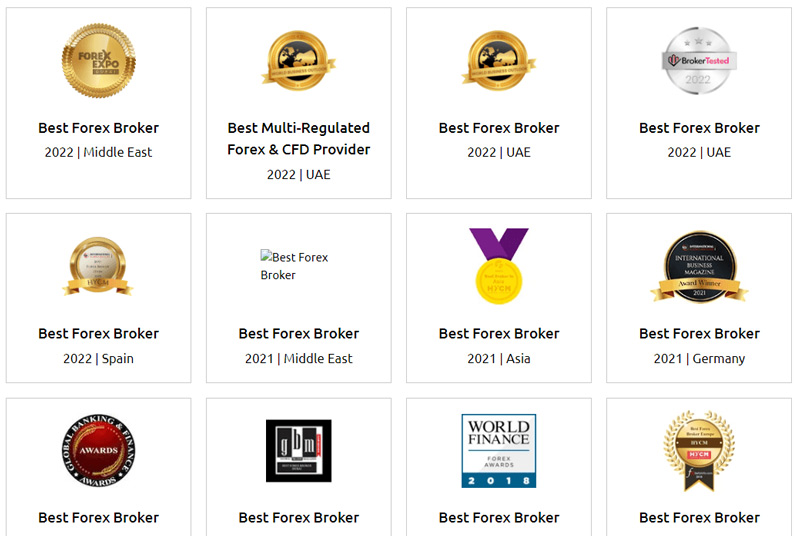 Is it scam or safe?
HYCM broker is not a scam but a reputable part of a global company with a strong track record and high trustworthiness. This entity is regulated by several government supervisory authorities such as FCA, CySEC, and DFSA. Therefore, it is considered a low-risk and safe broker for forex trading.
Is HYCM Broker Legal?
The main office of this broker is called Henyep Capital Markets, located in London, and is thoroughly assessed by the FCA. Therefore, it provides proper legal security for its clients worldwide and creates favorable conditions for cooperation. Other branches of the Broker also hold appropriate licenses from various places like Dubai and Cyprus, confirming HYCM's exceptional adherence to legal guidelines.
HYCM Broker takes stringent regulations to ensure the complete protection of its customers. Customer deposits at this broker are always kept separate from the company's funds, eliminating any doubts or suspicions regarding their use. Moreover, customers of the broker fall under the Financial Services Compensation Scheme (FSCS), which is also applicable to legal entities.
Therefore, if, under any circumstances, HYCM is unable to provide further financial services, customers can receive compensation. However, the official regulations of the company can vary significantly depending on the specific entity and its auditing rules and conditions. Therefore, before investing, it's essential to carefully review the specific rules of the entity in your country.
Leveraged Trading
Leveraged trading with HYCM Broker depends on the regulatory environment and jurisdiction where your trading account is established. Each jurisdiction is categorized under specific laws and regulations. Consequently, different levels of leverage and trading conditions will apply based on your place of residence. The leverage ratios offered by the Broker vary as follows:
Leverage ratio of 1:500 for accounts in Dubai and CIMA (Cayman Islands).
Leverage ratio of 1:30 for British and European traders.
Higher leverage ratios, up to 1:500, are also available in some accounts, enabling smaller and retail traders to participate. This is because a small initial deposit can cover trading margins. However, this high leverage is only allowed for accounts in Dubai and those in compliance with the Cayman Islands regulations. Most other accounts fall under European ESMA regulations, which recently capped leverage levels for forex instruments at a maximum of 1:30.
Types of Accounts at HYCM Broker
HYCM Broker offers three types of accounts: Fixed, Classic, and Raw Spread accounts, each with fundamental differences. It uses a Fixed Spread model with slightly higher margins than usual. However, this ensures that no commissions are charged on various trades.
The classic account also offers variable spreads to customers. In the raw spread account, spreads are determined by interbank rates and can be as low as 0 pips, along with a commission for each trade. However, the spread on trading accounts and specific conditions may vary based on the regulations of each jurisdiction.
| | |
| --- | --- |
| Positive Aspects | Negative Aspects |
| Quick Account Opening | Types of accounts and offers may vary depending on the jurisdiction. |
| Clearly Defined Account Types | |
| Clearly Defined Account Types | |
| Demo and Swap-Free Accounts Available | |
| Access to a Wide Range of Financial Instruments | |
HYCM Broker's Fees
HYCM Broker's fees differ depending on the chosen account type or the type of trade you engage in. You'll need to decide which fee structure suits your trading style better. Fixed spreads are preferable for those who seek market stability even during forex news events. Classic variable spreads and zero commission accounts are more suitable for diverse trading styles and offer good value. Understanding a broker's fees is crucial. Additional fees, such as commissions on deposits or withdrawals, as well as non-trading fees, are displayed in the following table.
| | |
| --- | --- |
| Fees | |
| Deposit Fee | No |
| Withdrawal Fee | Yes |
| Inactivity Fee | Yes |
| Ranking of Fees | Low to Average |
Non-Trading Fees
HYCM's fees, or its swap rate, are also affected by its overnight interest rate. Additionally, whether a position is long or short plays a role. Non-trading fees, in essence, differ when exchanging one currency for another. For example, the purchase order with the EUR/USD currency pair equals 3.25%. Meanwhile, the sale order adds 1.25% to this amount.
Also, consider the inactivity fee. HYCM Broker will charge you a monthly fee of $10 if your trading account remains inactive for a certain period.
HYCM Broker's Spreads
HYCM provides different types of spreads depending on the chosen account type. Fixed spreads, although slightly higher than standard, are offered for specific accounts. On the other hand, the classic account offers variable spreads, which vary based on market conditions and fluctuations. Ultimately, raw spreads are a choice for more advanced traders, as they involve a commission of $4 per lot in each round.
Moreover, Islamic accounts and swap-free accounts are also available for traders. You can find HYCM's spreads for various assets or currency pairs in the table below.
| | |
| --- | --- |
| Currency Pair | Spread |
| EUR/USD Currency Pair: | 1.2 pips |
| Crude Oil (Texas) | 6 pips |
| Gold | 32 pips |
Trading Instruments
HYCM Broker specializes in providing a wide range of trading instruments. It offers access to various financial and commodity instruments, including forex, precious metals like gold and silver, energy carriers like oil and gas, commodities, indices, and stocks. Additionally, this broker continuously improves its range of tools and now offers a broad selection of major cryptocurrencies to its users.
HYCM Broker's Trading Platforms
HYCM, as a leading financial service provider, offers advanced trading platforms to its traders. They primarily prioritize and relies on the popular MetaTrader 4 (MT4) platform for its trading activities. However, users can always choose the new version, MetaTrader 5 (MT5), if they prefer it.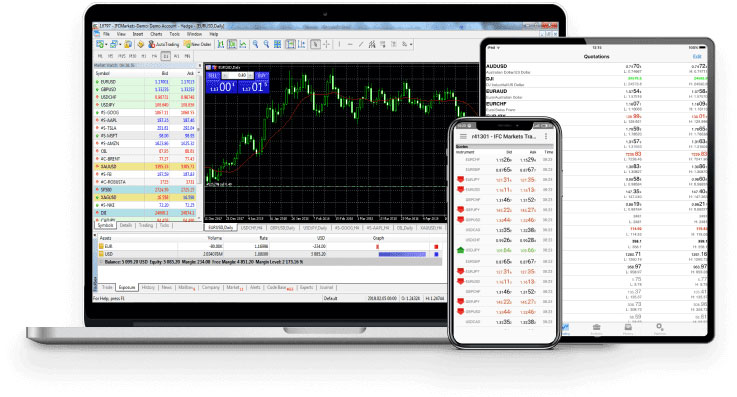 1. Web Platform
MetaTrader 4 is an advanced software in the financial brokerage industry and is primarily known for its ease of use and comprehensive features. The web platform can be an excellent choice due to its easy access through any web browser, eliminating the need for special installations or configurations. However, its main drawback is the limited number of available trading tools and programs. For more in-depth analysis, it's better to opt for the desktop version of MT4.
2. Desktop Platform
Professional and daily traders require a desktop platform that provides the full version of MT4 or MT5 with all the trading capabilities. MT4 is also suitable for novice traders, offering security, 24/7 support, automated trading capabilities, integrated technical analysis tools, fundamental market news, VIP personal seller services, experts, and many other features.
3. Mobile Platform
This Broker also offers a mobile application for traders who prefer trading on the go. The mobile platform allows users to trade anytime, anywhere. The HYCM Trader app is available on both Google Play and the App Store, making it easy to access. All you need to do is search for "HYCM" in these stores.
Deposits and Withdrawals at HYCM
There are various ways to fund trading accounts and withdraw funds from accounts offered by HYCM. They employ a democratic policy for transferring money, but the terms and methods of transfer can differ significantly depending on the specific account balance.
Deposit Options
HYCM customers can utilize regular bank cards and other common payment methods for making deposits. Visa or Mastercard, bank transfers, various electronic systems like WebMoney, UnionPay, Neteller, Skrill, along with Bitcoin are available deposit options with this broker.
| | | | | |
| --- | --- | --- | --- | --- |
| Payment Type | Minimum Amount | Deposit Base Currency | Processing Time | Commissions |
| Bank Wire | US $250 | USD, EUR, KWD, AED, SAR, RMB | 1 to 7 working days | $0 |
| Visa / Mastercard | US $20 | USD, EUR, GBP, RUB, AED | 1 hour | $0 |
| neteller | US $20 | USD, EUR | 1 hour | $0 |
| skrill | US $20 | USD, EUR | 1 hour | $0 |
Minimum Deposit
The minimum deposit at HYCM broker varies depending on the type of account you choose. For example, the Raw Spread account initially requires a deposit of $200, but in general, the minimum deposit can start from $100.
Withdrawals
One of the great things about HYCM is that there are no deposit and withdrawal fees, meaning you can manage your costs easily. However, make sure to deposit in your account's base currency and avoid multiple currency conversions. Withdrawal methods are similar to deposit methods.
| | | | | |
| --- | --- | --- | --- | --- |
| Payment Type | Minimum Amount | Base Currency | Processing Time | Commissions |
| Bank Wire | US $300 | USD, EUR, GBP, AED | 1 to 4 working days | $0 |
| Visa / Mastercard | US $20 | USD, EUR, GBP, RUB, AED, CAD | 1 to 7 working days | $0 |
| neteller | US $20 | USD, EUR | 24 Hours | $0 |
| skrill | US $20 | USD, EUR | 24 Hours | $0 |
HYCM Customer Support
Thius broker offers customer support in multiple languages through their customer service desks, catering to global needs. Even if customer service is available only on business days, they are highly responsive. It's customer service is accessible through live chat, international phone lines, email, and more.
Education
Another outstanding feature of HYCM is its commitment to education and sources to learn forex, providing all the knowledge necessary for successful trading. This includes trading courses, webinars, and seminars regularly held at different locations. You will also have access to technical and fundamental market analysis through educational materials, MT4 videos, and other essential resources.
These educational resources are highly beneficial, especially for novice traders. Along with excellent learning opportunities and research tools, they provide a great chance for a successful trading journey.
Summary
HYCM brokerage has a strong and trustworthy reputation in the financial market. It is a regulated broker with professional services that cater to the needs of traders. Traders can open an account with a very low deposit of $100 in this brokerage. Even novice traders can benefit from the well-rounded support and educational resources provided by the broker's highly-educated customer support team.
Pros
1. Reputable with FSA and CySec regulation.
2. Over 40 years of company history.
3. Excellent trade execution speed.
4. Supports real (Rial) deposits and withdrawals.
5. Competitive spreads and commissions.
6. Strong customer support.
Cons
1. Doesn't offer a Cent account.
2. Does not provide PAMM and copy trading accounts.
Frequently Asked Questions (FAQs)
Is HYCM a regulated and reputable broker?
Yes, HYCM is regulated by two reputable authorities, FCA in the United Kingdom and CySEC in Cyprus, and it is under strict and continuous supervision. Additionally, the CIMA organization in Dubai has also approved this broker.
What trading platforms does HYCM offer?
You can choose from various trading platforms provided by this broker, including Windows, Android, and iOS versions, as well as MetaTrader 4 and MetaTrader 5 platforms. These platforms are available for free and are easy to download and use.
What trading instruments are available?
HYCM offers over 100 different trading instruments, including currency pairs, well-known global indices, cryptocurrencies, and commodities like crude oil. You can trade these instruments as CFDs (Contracts for Difference).