Bybit Exchange is a crypto exchange that offers a wide range of advanced trading tools. This exchange is committed to top-notch security and reliability, but it is not accessible to users in the United States. it is suitable for cryptocurrency traders who want to use margin trading and other derivatives.
Read a comprehensive BrokerLand review of Bybit Exchange to determine if it's a suitable platform for your trading.
Bybit Exchange Review
Bybit, a crypto derivatives exchange, is available to users worldwide except in the United States. Cryptocurrency traders interested in leverage trading will find it to be a better platform. However, we recommend using leverage trading with the utmost caution and care. Below, we've highlighted some pros and cons of this exchange.
Pros:
Offers leverage trading for digital currencies up to 100x.
Provides a risk-free test environment for learning.
Offers advanced and technology-supported tools.
Provides top educational resources in the field of digital currencies.
Cons:
Not available in the United States.
Cryptocurrency derivatives can be very risky.
Not suitable for spot trading.
Pros of Bybit Exchange
Before we delve into the pros of Bybit, let's take a brief look at the digital currency derivatives market. The derivatives market consists of financial instruments known as contracts. These derivatives derive their value from an underlying asset and you won't be the owner of that asset.
Instead, you will have a contract to buy or sell that asset at a specific price in the future. This exchange is primarily considered a derivatives exchange, meaning it's a platform for buying and selling futures contracts. Now, let's look at the top advantages offered.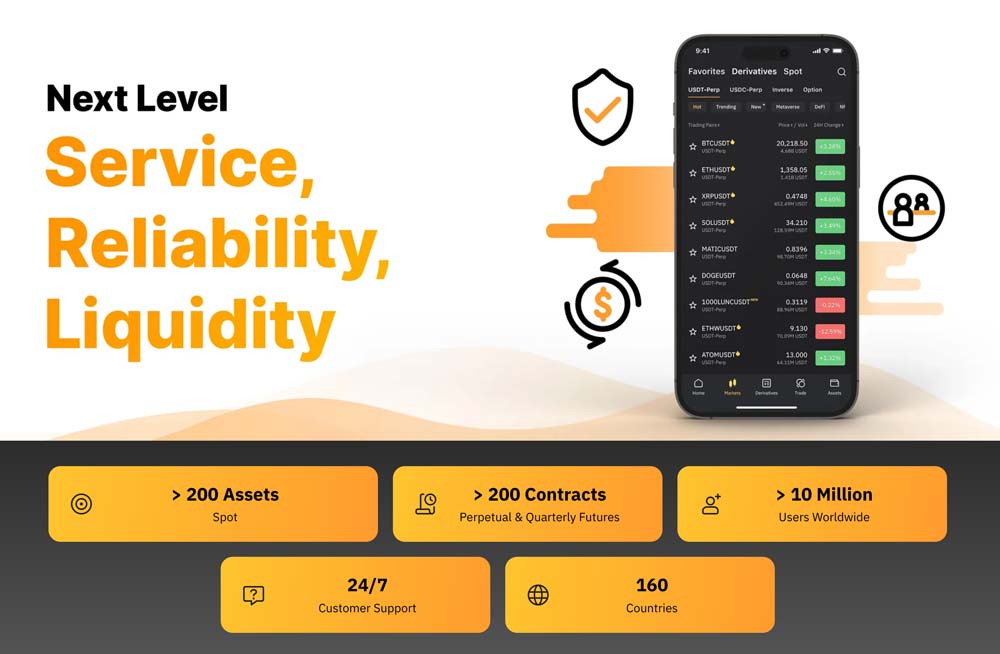 Leverage Trading:
Bybit offers leverage trading for digital currencies, allowing traders to amplify their positions up to 100 times their initial capital. This can significantly magnify profits, but it also increases the potential for losses. It's important to use leverage trading cautiously and understand the risks involved.
Risk-Free Test Environment:
Bybit provides a simulated trading environment where users can practice and learn trading without risking real capital. This is a valuable feature for new traders who want to gain experience before they start trading with real money.
Advanced Tools:
This exchange offers a variety of advanced trading tools and features, including order types, technical analysis indicators, and real-time price charts. These tools are designed to help traders make informed decisions and execute their strategies effectively.
Educational Resources:
Bybit provides educational resources to help users understand digital currency trading, derivatives, and how to use the platform. These resources can be valuable for both new and experienced traders looking to enhance their knowledge and skills.
Security:
It places a strong emphasis on security and employs industry-standard security measures to protect users' accounts and assets.
Cons of Bybit Exchange
Despite its advantages, Bybit also has some drawbacks and risks to consider:
High Risk:
Derivatives trading, especially with leverage, can be extremely risky. The potential for both significant gains and substantial losses is heightened when using leverage. Traders should have a good understanding of how leverage works and the risks involved.
Limited Access:
Bybit is not available to users in the United States. If you are a resident of the United States, you won't be able to use this exchange.
Not Suitable for Spot Trading:
Bybit primarily focuses on derivatives trading, and it's not a suitable platform for those who want to engage in spot trading (buying and selling actual cryptocurrencies).
In summary, Bybit is a platform tailored for experienced traders who are interested in leverage trading and derivatives. While it offers several advantages, it's essential for traders to be aware of the risks, especially when using leverage. Additionally, it is not accessible to users in the United States.
Please note that cryptocurrency trading, particularly with leverage, carries significant risks, and it's important to have a solid understanding of the market and trading strategies before engaging in such activities.
Bybit Alternatives
If you're looking for a cryptocurrency exchange that takes regulations seriously, then Gemini Exchange is a suitable option for you. Gemini fully complies with regulatory requirements and was one of the first cryptocurrency exchanges to meet the stringent licensing conditions in New York. It offers a wide range of digital currencies, advanced trading tools, and reasonable fees.
For those in the United States looking for a cryptocurrency exchange that offers margin trading legally, Kraken Exchange does just that. However, Kraken requires its customers to demonstrate that they are eligible for derivatives trading, which means they will need to have a minimum of $10 million in assets.
How Bybit Works
Bybit Exchange does not require mandatory Know Your Customer (KYC) customer identification. To open an account on this exchange, you only need a phone number or email address. Afterward, you can deposit digital currencies or use a third-party application to buy Bitcoin with fiat currency.
This exchange offers margin and futures trading with leverage of up to 100 times. Users can receive up to 100x leverage on Bitcoin and 50x leverage on other altcoins. Customers can also take advantage of short-term insurance against losses. It provides both a web version and a mobile app filled with useful features for advanced digital currency traders.
In this exchange, you can only exchange one cryptocurrency for another. If you're solely interested in trading digital currencies, Bybit might not be the best choice, as the platform is not designed for spot trading.
Leverage Trading on Bybit
If you've never used leverage in crypto trading before, it's essential to understand that it essentially involves borrowing money to increase potential profits. Leverage trading is sometimes referred to as margin trading. Most regulators usually don't allow retail investors to trade with leverage because the risk of losing everything is very high, and in most cases, they end up losing.
Please be aware that cryptocurrency trading, especially with leverage, can be extremely risky. It's essential to have a solid understanding of how leverage works and the associated risks before engaging in such activities.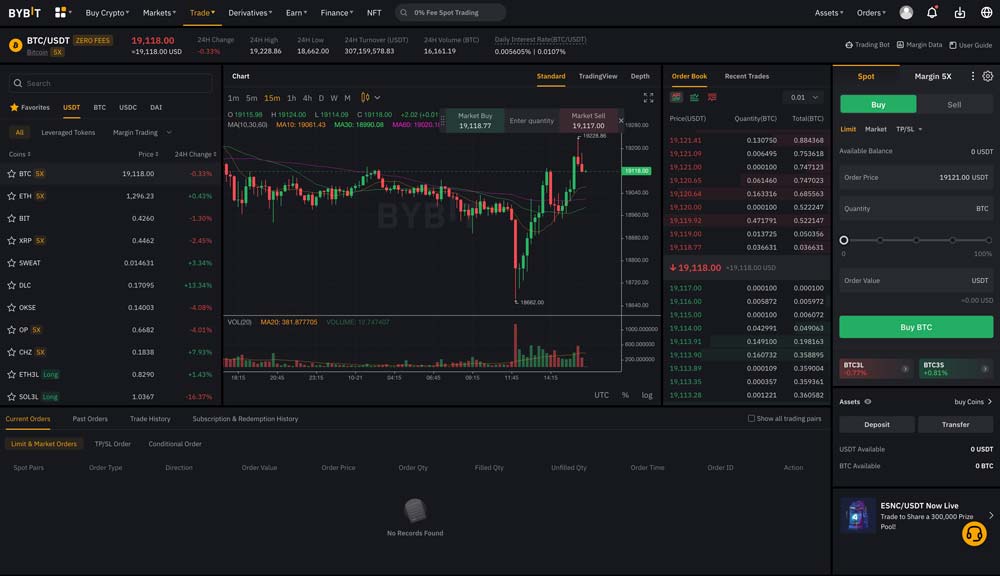 In leverage trading, you have the option to go long (betting that the digital currency's price will increase) or go short (betting that the digital currency's price will decrease). Let's discuss three main types of orders you can have on Bybit:
1. Limit Order: This is an order where you set the price at which you want to buy or sell. It will only execute when the market reaches that price.
2. Market Order: This order is immediately placed in the order book. You'll need to pay a fee to execute a market order. With this type of order, you have less control over the price at which your order gets executed.
3. Conditional Order: This type of order becomes active when the market reaches your specified condition. For example, you might set a take profit or stop loss order once your investment has gained a 50% profit.
Fees on Bybit
Bybit charges three types of fees: trading fees, withdrawal fees, and deposit fees. It collects fees from both the maker and the taker. The fees depend on whether you're adding or withdrawing funds from the market. The table below shows the fees and leverage levels for perpetual contracts using digital currencies as the base currency.
| | | | |
| --- | --- | --- | --- |
| Perpetual or Inverse Contracts | Maximum Leverage | Discount for Makers | Fee for Takers |
| Bitcoin and USD | up to 100x leverage | -0.025% | 0.075% |
| Ethereum and USD | 50x | -0.025% | 0.075% |
| Ripple and USD | 50x | -0.025% | 0.075% |
| EOS and USD | 50x | -0.025% | 0.075% |
Depending on the cryptocurrency you withdraw, you will also have to pay standard withdrawal fees, as shown in the table below:
| | | |
| --- | --- | --- |
| CryptoCurrency | Withdrawal Fee | Minimum Withdrawal |
| Bitcoin (BTC) | 0.0005 Bitcoin | 0.001 Bitcoin |
| Ethereum (ETH) | 0.01 Ethereum | 0.02 Ethereum |
| EOS (EOS) | 0.1 EOS | 0.2 EOS |
| Ripple (XRP) | 0.25 Ripple | 20 Ripple |
| Tether (ERC-20) | 10 Tether | 20 Tether |
| Tether (TRC-20) | 1 Tether | 10 Tether |
Selection of Digital Currencies
Bybit offers 15 different digital currencies for trading, depending on the type of trade you wish to engage in. These include Bitcoin (BTC), Ethereum (ETH), Bitcoin Cash (BCH), Litecoin (LTC), Tezos (XTZ), Chainlink (LINK), Cardano (ADA), Polkadot (DOT), Uniswap (UNI), Ripple (XRP), NEM (XEM), SushiSwap (SUSHI), Aave (AAVE), Dogecoin (DOGE), and Tether (USDT).
Digital Asset Security at Bybit Exchange
Bybit has implemented various security measures to protect your digital assets. The exchange stores 100% of customer digital funds offline in cold wallets. Additionally, withdrawal requests on Bybit are manually reviewed to prevent unauthorized withdrawals.
Bybit Exchange is also a member of a bug bounty program that incentivizes ethical hackers to report any security vulnerabilities. They conduct background checks on all their employees and offer two-factor authentication for withdrawals and security settings changes at the user level. In summary, if you meet the following criteria, trading on Bybit can be suitable for you:
1. You are a non-U.S. resident looking to participate in futures contracts.
2. You are confident in your proficiency with advanced trading tools.
3. You are interested in using the digital asset derivatives market and are comfortable with its risks.
Summary
Bybit stands out from many other digital asset exchanges as it primarily focuses on derivatives and futures markets. Experienced traders can utilize the derivative market of this platform to potentially earn significant profits. However, it is recommended to exercise caution as leveraged and futures trading can involve higher risks.